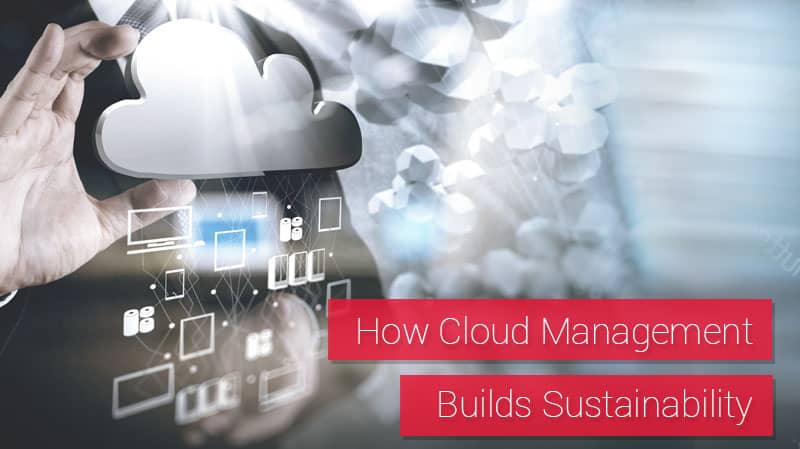 For decades, companies seeking high-powered computing systems have largely paid premium prices to outfit each employee with robust machines at each desk. The downsides are obvious—expensive computers are expensive to run and even more expensive to replace, meaning they're more likely to see continued use beyond the ideal or even typical lifecycle. With today's secure, high-speed networks and powerful servers, the trend has shifted to cloud computing not only for the largest enterprises but for even small and mid-sized businesses (SMB).
Cloud management of computing resources enables companies of all types to take advantage of processing power that they may otherwise be unable to afford. This technology also shifts the need for a large staff of technicians that support your information technology to your cloud provider. Gartner research estimates that 28% of enterprise IT spending will be in cloud computing by 2022.
What Is Cloud Computing?
Cloud computing takes its name from the fact that the actual processing power exists not on your company's premises, but in a data center provided by a vendor. The vendor supports the equipment, technology, network, and the facility. With high-speed networks and internet, the physical location of your processing has ceased to be a critical factor in the use of applications and data.
In fact, implementing cloud management technology opens doors to your business for applications such as eCommerce, document management, and much more. With cloud management, you avoid the considerable capital investment in purchasing servers or even larger computers by sharing a computing environment that incorporates best practices and time-proven technology.
There are three primary cloud management models:
Public Cloud: this is perhaps the best-known model, where multiple companies utilize a public service such as Microsoft Azure or Amazon Web Services for all their applications and data requirements.
Private Cloud: used by some businesses such as health care or financial institutions with compliance needs or those who simply want to maintain total control of the environment. In this model, the business—or its IT provider—creates an internal cloud infrastructure to be accessed by employees.
Hybrid Cloud: for many companies, a hybrid solution works best. Mission-critical or confidential applications and data may be located in-house, while eCommerce or standard business applications may be supported in a public cloud environment.
Whatever model works best for your business, you can realize many benefits from adopting cloud management.
Benefits of Cloud Management
Cloud computing offers many advantages for businesses of all market segments and sizes:
Significantly lower investment in computer hardware
Easier to budget for technology needs as costs are generally subscription based—no need for significant one-time expenses (such as bulk replacing computers or servers every 3–5 years)
No data center facility expense (construction, security, power, backup generators, etc.)
Reduction in technical personnel to install, maintain, and manage information resources
Physical security—computers and storage are off-site in a protected environment
Access to software that may not be cost-justified if purchased outright
Improved data security—cloud providers offer secure computing services and backup procedures
Scalability—you can add computing power or storage as needed, without major internal equipment upgrades
In many cases, cloud computing can be financed as an operational expense, avoiding the need to justify and approve capital expenditures for additional equipment or upgrades when they are warranted.
Along with the cost and facility benefits, your company can achieve profits in lower utility costs and increased commitment to green initiatives and sustainability.
How Cloud Management Builds Sustainability
Sustainability is an environmental concern that deals with the responsible use of our natural resources. Cloud management contributes to your green initiatives and sustainability efforts in many ways:
No powerful servers are running in your building. These servers generate heat that must, in turn, be controlled with additional cooling resources—which means more power consumption.
Your lower use of power saves energy for the local utility, reducing their generating requirements and your carbon footprint.
Sharing resources—by turning to a cloud provider for computing services, you're optimizing the use of energy resources by sharing not only server and computing power, but also the associated data storage facilities. This is referred to as multi-tenancy, where your funds are managed and controlled by the cloud computing provider. Of course, your data can still be isolated and secure from unauthorized access by any other tenants of the cloud service.
Dynamic allocation of resources—when installing internal information technology systems, most businesses allow for future growth, so there is no immediate need for additional upgrades and the associated expenses. This means you're powering more equipment than you need at a certain time. With cloud management, only what you need is allocated to your business, and you can add storage, computer power, or memory when the need arises.
Cloud data centers spread these costs, resources and their environmental impacts across dozens of customers, averaging everything out to improve sustainability across the board. Additionally, the increased efficiency offered by utilizing cloud management contributes to your bottom line by increasing your sustainability and public imaging, providing operational cost savings, and providing flexibility in managing computing power and storage capacity.
Implementing Cloud Management Services
When your business needs reliable, cost-effective business products and technology solutions, an experienced IT team is critical to your success. CDS Office Technologies has been providing quality products and a full range of services to our clients since our founding in 1971, including:
Printers, multifunction printers, and associated supplies
Networking products
Network security and intrusion prevention
Communications
Information technology services
Cloud data storage
Servers, desktop, laptop, and tablet computers
Consult the professionals at CDS Office Technologies for all your technology, office equipment, and communications requirements. We can help your business find cost-effective technology solutions that offer scalability and efficiency for current and future needs.