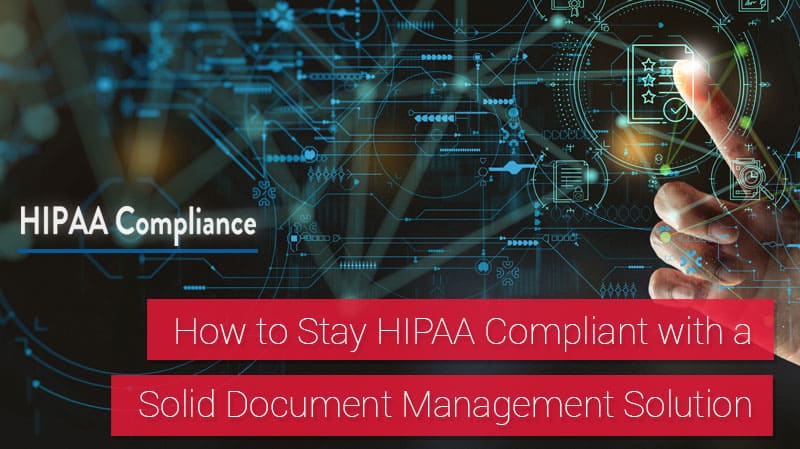 In today's digital world, all information has value. Like other industries, companies in the healthcare industry need to secure customer and employee data. Uncontrolled disclosure of personal data can lead to reputational damages, non-compliance with regulations, and expose vulnerable patients to exploitation.
One of the regulations that apply to anyone processing information in the medical industry is the Health Insurance Portability and Accountability Act (HIPAA). Not only does HIPAA require a set of stated controls for document security, but organizations also have to demonstrate compliance with the act. According to the Office for Human Rights (OCR), which is responsible for HIPAA's enforcement, they collected over $28 million in fines in 2018. One settlement alone between OCR and Anthem Inc. amounted to $16 million.
Managing HIPAA Compliance Costs in a Less Secure World
Since its enactment in 1996, additional amendments continue to increase the costs of demonstrable compliance with HIPAA. Document security at smaller medical facilities or individual healthcare practitioners remains a concern. In 2002, the final amendment of the Privacy Rule became law, and this means it also applies to any business associates of the medical facility.
Medical practitioners can comply with HIPAA's stipulations and digitize operations while maintaining their document security. The latest Document Management Systems (DMS) and collaboration tools come with the necessary compliance features included.
HIPAA Compliant Document Management Solutions for Healthcare Professionals
Primarily, HIPAA's compliance requirements attempt to secure all Personal Health Information (PHI) while still making it available to healthcare professionals. The exact requirements apply to covered entities, which are entities that create, capture, or transmit any PHI. HIPAA rules seek to protect the integrity of PHI with physical, technical, and administrative controls.
If a breach occurs at a covered entity, they will need to disclose the incident by following the HIPAA Breach Notification Rule. This requires the entity to chronicle the reasons for the failure of their safeguards to the OCR. To ensure companies can investigate any breaches, a digital system can provide remediation of the failure and help determine how it occurred in the first place.
Document Management Solutions for HIPAA Compliance
DMS solutions like M-Files help healthcare facilities streamline their document processes while remaining compliant with HIPAA's requirements. The solution enables medical practitioners to secure PHI while making it searchable and retrievable to authorized personnel. M-Files makes it easy to capture paper documents, organize, and classify the information using multiple layers of security to keep the PHI protected.
M-Files streamlines the entire information processing workflow through the whole experience. From admitting a patient to recording their interactions with medical professionals, M-Files makes the process easy, efficient, and most importantly, secure. Organizations can opt to deploy M-Files in the cloud, on-site, or as a hybrid solution. As every digital file includes its metadata, staff and caregivers can quickly search and retrieve a specific record to improve the levels of care they provide to patients.
Securing Communications that Contain PHI
While securing the documents and digital files relating to PHI is vital, any email or communication that contains private information should also remain protected. Microsoft's Office365 solutions include all the Windows productivity tools people have become familiar with over the last two decades.
To assist healthcare providers in remaining HIPAA compliant while using Office 365, Microsoft recommends that any covered entity should enter into a Business Associate Agreement (BAA) with the company. This will cover the entity if any breach occurs, and Microsoft will have the necessary information to disclose the breach to an administrative contact.
It's important to note that Office 365 gives covered entities all the features required to secure their information. The Software as a Service (SaaS) platform doesn't automatically comply with HIPAA requirements, but covered entities can configure the solution to ensure they remain compliant.
Improving Physical Document Security for HIPAA Compliance
For situations where physical documents remain necessary, improving the facility's printer and copier security may also be required. Healthcare practitioners should implement strict security controls on all printed materials relating to PHI. By classifying digital files correctly, a modern Multifunction Printer (MFP) can use pull-to-print controls to prevent an uncollected print job from leading to a breach. The latest MFPs also use encryption to keep any files in the queue secure until an authorized person releases them for processing.
Secure PHI and Ensure HIPAA Compliance with DMS Solutions from CDS Office Technologies
For more than four decades, CDS Office Technologies have assisted organizations in leveraging technology for improved efficiency and productivity. For medical facilities, CDS Office Technologies can help develop a HIPAA compliant solution that streamlines processes and keeps all PHI secure. CDS Office Technologies provides managed technology services, office productivity tools, network security solutions, and office hardware systems to companies in any industry and of any size.
To find out more about CDS Office Technologies' document security and HIPAA compliant solutions, reach out to one of our experts today.