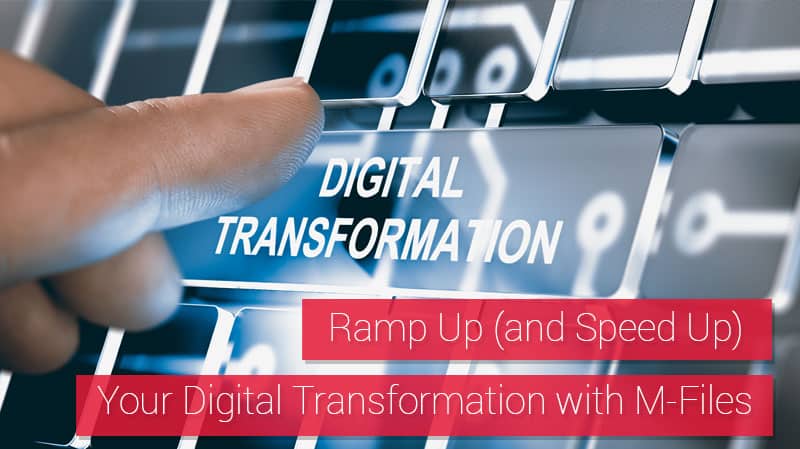 Business is changing. The way that customers and clients discover, purchase, and use services is completely different today than it was 10 years ago. At first, adjustments like scanning and converting documents or forms to digital formats, or offering an online client portal, seemed enough to stay abreast of these market changes–not anymore.
What Is Digital Transformation (and Why It's No Longer Optional)
Today, digitization of businesses (the process of transforming current business practices to a digital version of those same processes) isn't enough to keep up with market changes. It's a common misstep for enterprises to prioritize digitalization or focus too much attention on the best ways to organize paper files in a digital structure–but that's a much shallower approach than true digital transformation.
Instead, businesses need to revolutionize everything they do in a digital context, creatively and iteratively, to meet the needs of an ever-changing market. This is as much of a cultural transformation as it is for the business services and processes themselves and can be a daunting task for newcomers.
What Can Digital Transformation Look Like?
It's easy to find countless theoretical discussions of the purpose or benefits of enterprise digital transformations, but what could it actually look like? For businesses ready to get down to the brass tacks of this transformation, some of the best places to start are cloud-based business apps.
These apps are great springboards because they deliver a hefty ROI for both cultural and process changes in a business. In fact, the Harvard Business Review found that cloud-based apps are driving major transformation across over half of surveyed businesses. Of these apps, one of the most effective places to start is by looking at file structure and organization.
It's Time to Revolutionize Your File Structure
One key component of a digital transformation process is to creatively analyze business processes at all touchpoints–both on the client-facing front end and internally. Ask questions such as: How do bread-and-butter processes (like the traditional business file structure) slow down business? Where are the pain points?
One common conclusion for businesses undergoing a digital transformation is that yesterday's folder structures are outdated. How many times do personnel dig through cumbersome folder structures in search of a document only to wonder if they have the most up-to-date or accurate version? If a file equally "belongs" in two places within a file structure, does the business create two copies for different user sets, wrestle with tedious shortcuts, or maintain constant communication about a single file's location?
This tedious organization of files is no longer adequate for companies to keep up. Businesses need solutions that can position information in an accessible, intuitive manner at the fingertips of users. In other words, businesses need to tear down information silos.
One way to achieve this is to outsource file organization itself to an automated system that maintains, backs up, and structures information in new and intuitive ways. Doing so will improve access and utilization of business information, and free up resources to continue focusing on the creative process of digital transformation.
How M-Files Drives Enterprise Digital Transformation
One of the most impactful areas to address in digital transformation is a business's file structure system and information management. M-Files was designed to support and drive the cultural and procedural aspects of enterprise digital transformation. Solutions empower users by connecting them directly to the content they need when they need it.
Rather than relying on yesterday's cumbersome file structure systems of information management, M-Files uses a dynamic metadata structure to drive a content-first approach. Users can connect with what they need immediately instead of first figuring out where they can find it. No more fishing around, and no more out-of-date duplicate files. M-Files delivers revolutionary solutions that are customizable to meet any business's needs:
Fast and Intuitive: Digital transformation is all about agility, and M-Files can be up-and-running within weeks. The intuitive system empowers users to access information without frustrating silos.
Flexible and Affordable: M-Files is compatible with enterprise software like CRM and EDP, and can meet the needs of even highly regulated industries.
Adaptable and Effective: All core business systems and devices can access their enterprise information and files, without incompatibility concerns or painstaking installations.
CDS has delivered document management, full-service IT support, and more to clients for over 40 years. Contact us to find out how M-Files can kickstart your digital transformation today!